Healthy Mouths for Healthy Pets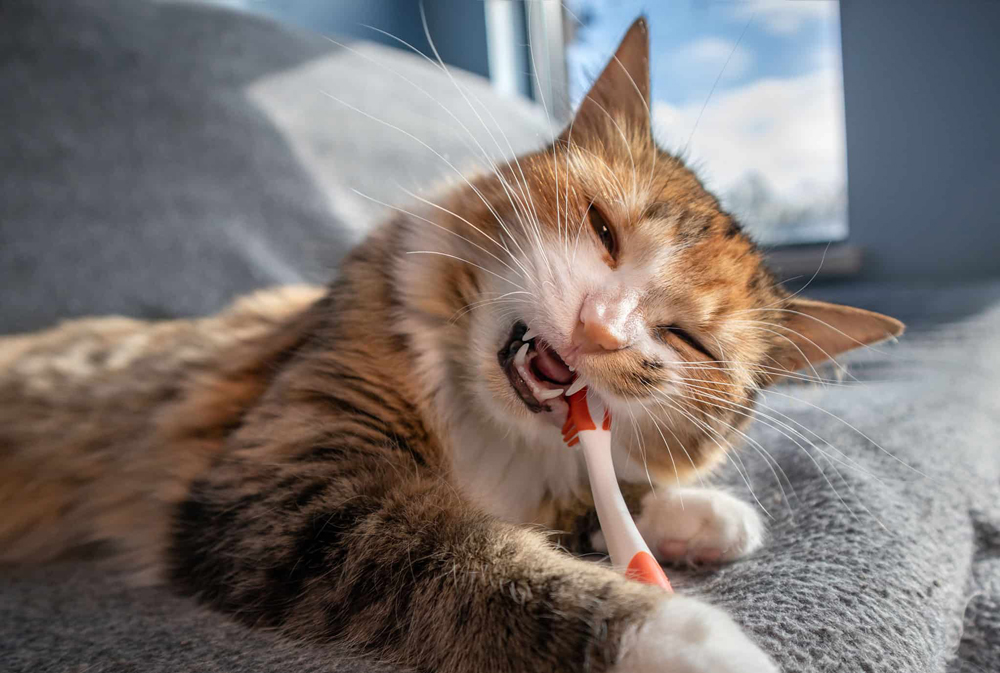 A healthy mouth means a healthy pet and, in many cases, a longer, happier life. Pets with good oral health are far more likely to live long, healthy lives than those with poor oral health.
Pet dental disease is a common problem. It's estimated that 80 percent of dogs and 70 percent of cats over age three have some degree of periodontal disease.
Periodontal Disease
Periodontal disease occurs when bacteria build up below the gum line, causing inflammation and damage to the tissue surrounding the tooth root. Over time, this can lead to bone loss around the teeth, making them loose or causing them to fall out entirely. This is why brushing your pet's teeth regularly and visiting your veterinarian regularly for professional cleanings are essential.
Dental disease is painful and can even be dangerous. Left untreated, dental problems can lead to serious medical issues, such as heart disease, kidney failure, liver damage, dehydration, malnutrition, and more.
Caring for Your Pet's Teeth at Home
The best way you can help prevent dental disease is by regularly brushing your pet's teeth.
Brushing helps remove plaque, which is made up of bacteria that sticks to the teeth. Plaque hardens into tartar over time if left untreated.
Tartar provides a place for bacteria to grow and multiply, leading to gum inflammation (gingivitis), tooth decay, and periodontal disease.
Dental Procedures at Our Office
From routine cleanings to more extensive dental procedures, your pet will receive the highest quality dental care at Transit Valley Animal Hospital. We offer:
A check-up of your pet's teeth at each annual exam.
Digital dental X-rays available at every dental procedure or cleaning.
Tooth extractions ranging from simple to surgical, including full-mouth extractions if needed.
A dedicated dental suite separate from our surgical area.
Local anesthetic blocks to help control pain.
Specific anesthetic plans tailored to your pet's needs for optimal safety.
Anesthetic monitoring with heating units, IV fluids, etc.
Follow up for pain. After your pet's treatment, we'll check on them to ensure they're comfortable and doing well.
Schedule a Dental Appointment
No patient is too old for dental treatment—age is not a disease!
Regardless of your pet's age, they'll feel better after infected, painful teeth have been extracted.
Please Call
to schedule a dental appointment for your pet.